Cupping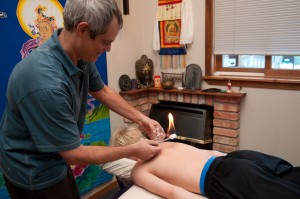 Cupping is a method of stimulating acupuncture points by applying suction using a metal, wooden or glass cup, creating a partial vacuum.
This technique stimulates the site by increasing blood circulation and assisting with muscle relaxation. Cupping is used for many conditions, such as muscle ache, sprain/strain, soft-tissue injuries, viral infection, or lung congestion. The suction of the cups mobilizes blood flow to promote the healing of numerous medical ailments.
There are various types of cupping therapy, including:
Dry cupping (suction only)
Wet cupping (combination of suction and controlled medicinal bleeding)
During both types of cupping, a flammable substance such as alcohol, herbs, or paper is placed in a cup and set on fire. As the fire goes out, the cup is placed upside down on the patient's skin.
As the air inside the cup cools, it creates a vacuum. This causes the skin to rise and redden as blood vessels expand. The cup is generally left in place for five to 10 minutes.
A more modern version of cupping uses a rubber pump to create the vacuum inside the cup. Sometimes practitioners use medical-grade silicone cups. These are pliable enough to be moved from place to place on the skin and produce a massage like effect.
Once the suction has occurred, the cups can be gently moved across the skin (often referred to as "gliding cupping). The suction in the cups causes the skin and superficial muscle layer to be lightly drawn into the cup.
Cupping is one of the best deep-tissue therapies available. It is thought to affect tissues up to four inches deep from the external skin. Toxins can be released, blockages can be cleared, and veins and arteries can be refreshed within these four inches of affected materials. Even hands, wrists, legs, and ankles can be 'cupped,' thus applying the healing to specific organs that correlate with these points.