Electroacupuncture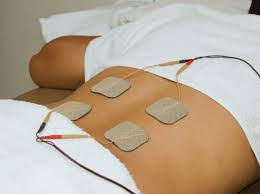 Electro-stimulation is the application of electrical currents to acupuncture points. It is administered through probes placed on the acupuncture needles that run a current through the needles into the acupuncture point. E-stim is often used in conjunction with acupuncture to reduce pain or to enhance a treatment. This technique has been proven to decrease pain, accelerate tissue healing, and significantly reduce inflammation, edema, and swelling.
Electroacupuncture is an increasingly popular form of treatment, and is used by practitioners of traditional Chinese medicine for a wide array of conditions.
What conditions can electroacupuncture treat?
According to the foundations of traditional Chinese medicine, illness is caused when qi does not flow properly throughout the body. Acupuncturists determine whether qi is weak, stagnant or otherwise out of balance, which indicates the points to be stimulated. Electroacupuncture is considered to be especially useful for conditions in which there is an accumulation of qi, such as in chronic pain syndromes, or in cases where the qi is difficult to stimulate.
In the United States, electroacupuncture has been effectively used as a form of anesthesia; as a pain reliever for muscle spasms; and a treatment for neurological disorders. Other studies have examined the role of electroacupuncture in treating skin conditions such as acne, renal colic, and acute nausea caused by cancer medications. There is also some evidence that electrical stimulation of acupuncture points activates the endorphin system, which could lower blood pressure and reduce heart disease.
Does electroacupuncture hurt?
Patients may experience a tingling sensation while being treated with electroacupuncture, most likely due to the electric current. In most cases, however; the tingling sensation will not be felt. Some minor bruising or bleeding may occur, which is the result of a needle hitting small blood vessels.
Are there any risks involved?
Electroacupuncture is contraindicated in patients with history of seizures, epilepsy, heart disease or strokes, and patients with pacemakers. It is never performed on a patient's head or throat, or directly over the heart. The current should not travel across the midline of the body, an imaginary line running from the bridge of the nose to the belly button.